News
Tweet
Health insurance
06 February, 2013
0 comments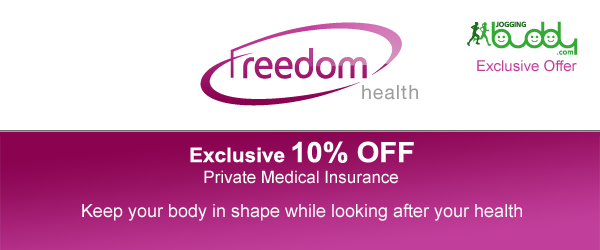 Because you care about your health!
Exclusive private medical insurance scheme and discount for UK JoggingBuddy members
Private medical insurance from as little as 50 pence per day or from £1.50 a day to cover your whole family.
New for 2013; JoggingBuddy brings UK members an exclusive members scheme with reduced price private medical insurance from Freedom Healthnet.
We thought it was about time that you were rewarded for your investment in getting fit and staying fit! so we have linked up with leading private medical insurer Freedom Healthnet to offer our members a 10% discount every month for the first year of the policy. The policy is already very competitive in the market so it is a genuine and significant benefit for our members.
The discount applies to members and their families, so if you are seeking to take out private medical insurance for the first time or would like to get an alternative to compare to save on your existing cover, get an online no obligation quote now. If you like the premium and require cover, you can purchase cover online today or if you have any questions contact the helpful freedom staff to get your JoggingBuddy discount.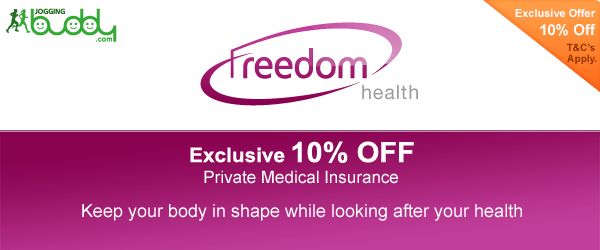 The benefits of having private medical insurance is that you can receive medical treatment when you need it with the specialist you choose at the hospital of your choice.
- No more post code lottery for your medical care.
- No more waiting lists before you can receive treatment..
- Private ward and specialist private surgeons and nurses to offer you the best possible care and treatment.
When you need treatment contact Freedom Healthnets helpful claims team to advise you of your options available:
Decide to be treated privately and use the money you receive when your claim is approved. In this case you keep any excess.
Choose to go with the NHS option where you don't have to pay anything for your treatment. In this case you can keep the entire sum from your insurance plan you receive when your claim is approved.
Tweet